Asphalte/enrobés bitumineux
Produits

DWT Double Wheel Tracker, EN version
DWT Double Wheel Tracker, EN version
The DWT Double Wheel Tracker with unique solutions to perform the test with the maximum reliability
EN 12697-22
PRINCIPALES CARACTÉRISTIQUES
Meets and exceeds EN standards
Fully automatic test performance on two specimens or one specimen
Variable wheel speed from 20 to 30 cycles/min
Fixed table, mobile wheel 230 mm travel
Wheel load of 700 N
Temperature range from ambient to 80°C (±0.5°C)
Accurate temperature control (±0.5°C) for both in water and air test
Rut depth transducers feature 50 mm travel, 0.01 mm accuracy
Direct rut depth measurement system, with transducers axially mounted in alignment with the wheel's centre
Motorized wheel-assembly lifting system for easy removal of slabs
Free access to the wide testing area
Optional independent lifting system for double or single wheel testing
Slab mould size of 400x300 mm
Slab thickness adjustable from 40 to 100 mm (in 10 mm steps)
Extensive use of stainless steel in the machine's construction; not limited to the parts in contact with water
PC and software included
Automatic water filling and leveling system, no need to adjust or control the water level above the specimen during test
Possibility to add two optional temperature probes to monitor the two samples temperature
Laptop PC control with dedicated software including results performance, test database management and multiple test elaboration
DESCRIPTION GÉNÉRALE
DESCRIPTION GÉNÉRALE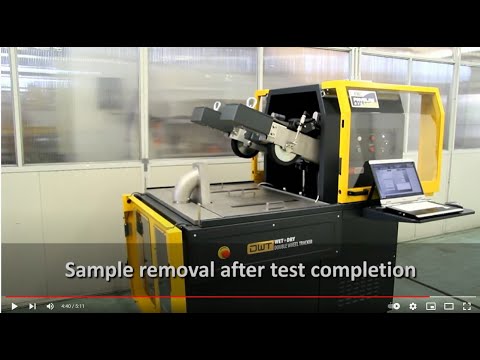 The wheel tracking test is used for determining the susceptibility of Hot Mix Asphalt (HMA) to deform under load by measuring the rut depth formed by repeated passes of a loaded wheel at a fixed temperature. Two versions available as prescribed by EN 12697-22 Small Size device: specimen conditioning in air and in air or water.
Both versions can be upgraded with automatic system which lift one of the wheel from the specimen that has reached the rut target continuing the test on the other specimen. See Upgrading options Automatic wheel lifting mechanism.
We also produce Wheel Trackers conforming to AASHTO T324 standard and a universal version conforming to both AASHTO and EN standards. See Hamburg type double wheel tracker and Universal AASHTO/EN double wheel tracker.
The
DWT Double Wheel Tracker
can be used as part of your
Superpave performance based testing
program.
Machine body
Sheet steel, powder coated. Trasparent sliding door.
Loaded wheel system
The EN versions are fitted with double solid rubber tyre, 203 mm dia. x 50 mm wide.
The wheel load is 700 N. The system includes a motorized lifting system for raising the wheel assembly at the end of the test.
Wheel tracking carriage
The wheel is moved 230 mm backwards and forwards on the top of the slab, which is fixed. The speed is adjustable via the PC from 20 to 30 cycles per minute (40 to 60 passes). The longest slab dimension is oriented to the wheel's direction of travel. Special slab moulds for circular samples obtained from coring or gyratory compactors are also available. See accessories.
Temperature control system
The EN prescribes either air or water environment. A water level of about 20 mm above the sample has to be maintained. Where a heated air environment is specified, the specimen, during testing, must be maintained at uniform and constant specified temperature ± 1°C. The DWT Double Wheel Trackers fully satisfy and exceed the above requirements: the temperature accuracy is ± 0.5°C.
Impression measurement system
Each wheel is fitted with RUT DEPTH transducers for measuring deformationsfrom 0 to 40 mm ±0.01 mm.
Plus +
Technical specifications
Displacement motion: the arm is moving and the carriage is fixed
Wheel travel: 230 mm
Wheel speed: variable from 20 to 30 cycles/min
Wheel load: 700 N
Temperature range: ambient to 80°C, ± 0.5°C
Rut depth transducer range: 50 mm, 0.01 mm accuracy
Moulds: not included, to be ordered separately
Slab thickness: adjustable from 40 to 100 mm in 10 mm steps
Overall dimensions (w x d x h): 1540x1020x1600 mm
Weight approx.: 600 kg
PC and software: included
Models
78-PV32E05
78-PV33E05
Standards
EN 12697-22
EN 12697-22
Testing mode
In air
In air and water
Description
DWT Double Wheel Tracker, dry conditioning version
DWT Double Wheel Tracker, wet and dry conditioning version
Material and dimensions (diameter per width) of the two loaded wheels
Rubber tyre 203x50 mm
Rubber tyre 203x50 mm
Temperature control method (accuracy ±0.5°C for both water and air)
Three 1200 W electronically controlled air blowers
Air: three 1200 W electronic controlled air blowers
Water: three 1500 W heaters, re-circulating pump, automatic feed and control level
Power rating
4600 W
5500 W
Ordering info
Dry conditioning series
78-PV32E05
DWT Dry double wheel tracker. Conforming to EN 12697-22 (Small Size Device).
Complete with PC, software and clear transparent sliding door.
Set of moulds to be ordered separately (see accessories).
380 V, 50 Hz, 3 ph

Wet and Dry standard conditioning series
78-PV33E05
DWT Wet and Dry double wheel tracker. Conforming to EN 12697-22 (Small Size Device).
Complete with PC, software and clear transparent sliding doors.
Set of moulds to be orderes separately (see accessories).
380 V, 50 Hz, 3 ph
Accessories
78-PV3/001
Set of two moulds for 400x300 mm samples, thickness from 40 to 100 mm, recommended for test according to EN 12697-22 in water or in air.


Upgrading
To be specified at the time of order

Lifting system
78-PV3UP10
System for the independent lifting of the loading wheel at the rut target, continuing the test, without interruption with the other wheel.


Additional temperature probes
78-PV3UP20
Additional two temperatures probes to monitor the two sample temperatures.

Documents