Products

Automatic shear testing machine SHEARMATIC EmS
Automatic shear testing machine SHEARMATIC EmS
ASTM D3080 | AASHTO T236 | BS 1377:7 | CEN-ISO/TS 17892-10 | NF P94-071
Main features
Electromechanical servoactuation. Dead weights and air compressor are not required making the test easy and accurate
User interface 6" touch screen colour display for numerical and graphical plotting of the readings
Maximum vertical force: 10 kN
Maximum horizontal force: 10 kN
Two displacement transducers measuring vertical settlement and horizontal displacement
Two load cells measuring vertical and horizontal force
Vertical force load cell directly mounted on the loading tip assuring high accuracy of the readings and of the control signal
Infinitely variable speed from 0.00001 to 15.00000 mm/min
High stiffness load chain shear box - driving head - load cell
USB pen drive for unlimited storage capacity and TXT format data output
Optional PC control via LAN port and dedicated software
Sturdy shear box techno-polymeric carriage untouchable by corrosion
Test velocity and travel (forward and reverse) adjustable (residual shear test)
Number of consolidation steps adjustable from 1 to 99 and number of shear cycles adjustable from 1 to 50
Axial force steps can be applied instantaneously as required by the standard
Also suitable for the oedometric consolidation using typical consolidation cells
Specific and independent data recording for consolidation and failure stages
General description
General description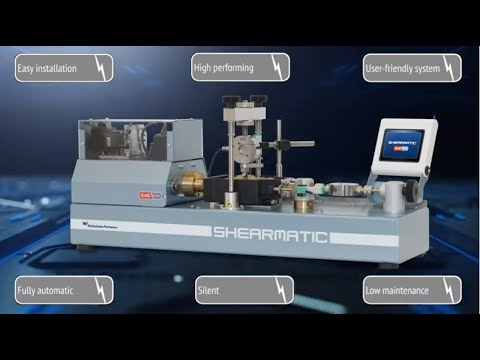 Shearmatic EmS is a standalone automatic machine with Electromechanic Servoactuation for direct/residual shear testing. It can also automatically perform the oedometric consolidation tests using the dedicated accessories. It incorporates two high-resolution stepper motors with high precision transmissions.
It features a closed loop PID control optimized for automatic test performance at the touch of a button, dead weights and air compressor are no more necessary.
The user interface is based on a large 6" touchscreen colour display permitting to start, pause and stop the test, to choose the data recording mode, to show the readings during the test execution and to carry out the transducers calibration.
The axial transmission of the horizontal force is accurately ensured by a straight connection between shear box, shaft and load cell. This design avoids the load measurement inaccuracies occurring with the widely used "swan neck" basic design.
A high quality techno-polymeric material has been adopted for the carriage of the shear box, offering excellent resistance to corrosion, wear and tear and to the chemicals often mixed with the soil specimens. Furthermore, this polymeric carriage is lightweight and easy to clean.
The digital controller reads and processes the vertical and horizontal forces and displacement readings and drives the motor accordingly for the proper automatic test execution under closed loop PID control.
The machine is supplied complete with the following transducers:
2 x 10 kN capacity load cells
11 mm displacement transducer
25 mm displacement transducer
In addition, a dedicated software (to be ordered separately) allows the remote control from a PC of multiple Shearmatic Ems machines. When the remote control mode is used, the PC software becomes the user interface and manages the main functions as well as the channels calibration by linear, polynomial and multi-coefficient curves.
The
Shear box assemblies
have to be selected and ordered separately.
The shear testing can also be performed with other traditional machines as:
More +
Technical specifications
Maximum vertical force: 10 kN
Maximum horizontal force: 10 kN
Max horizontal travel: 23 mm
Max Vertical travel: 12.8 mm
Test speed: from 0.00001 to 15.00000 mm/min
Maximum number of consolidation steps: 99
Maximum nuber of shear cycles: 50
Weight approx.: 60 kg
Sample type and size: up to 100 mm square or round
Dimensions approx.. [lxhxd]: 990x550x350 mm
Multivoltage – Multifrequency power supply 230 V, 50 Hz or 110 V, 60 Hz
Ordering info
27-WF21E80 SHEARMATIC EmS – Electromechanical Servoactuated technology, automatic direct and residual shear testing machine. 220-100 V / 50-60 Hz / 1 PH
Featuring:
- Servoactuation. Dead weights and air compressor are not required.
- User interface 6" touch screen colour display and optional PC control via LAN port and dedicated software
- Maximum vertical force: 10 kN
- Maximum horizontal force: 10 kN
- 2 displacement transducers measuring vertical settlement and horizontal displacement.
- 2 dedicate load cells measuring vertical and horizontal force
- Vertical force load cell directly mounted on the tip loading assuring high accuracy of the readings and of the control signal
- Infinitely variable speed from 0.00001 to 15.00000 mm/min
- High stiffness load chain shear box - shaft - load cell
- Sturdy shear box techno-polymeric carriage untouchable by corrosion
- USB pen drive for unlimited storage capacity and TXT format data output
- Compatible with shear boxes up to 100 mm diameter or square
- Test velocity and travel (forward and reverse) adjustable (residual shear test)
- Number of consolidation steps adjustable from 1 to 99 and number of shear cycles adjustable from 1 to 50
- Numerical and graphical display of the readings
- Axial force steps can be applied instantaneously as required by the standard
- also suitable for the oedometric consolidation using typical consolidation cells
- Specific and independent data recording for consolidation and failure stages

Accessories
Shear boxes
Shear box assemblies
Accessories for consolidation test
27-WF21E80/C
Accessories for the automatic performance of the consolidation test with the electro-mechanical direct and residual shear apparatus SHEARMATIC EmS. Consolidation cell not included (to be ordered separately)
Software
27-WF21E80/SW
PC Software for remote control and data acquisition from Shearmatic EmS machines, multiple units connectable to a single PC. Key features: remote control of the main functions, sensors' calibration, numerical and graphical displaying of results, storage of test and calibration data.
Data processing template
30-WF6016/T2
Direct and residual Shear Geo-Analysis template conforming to BS 1377:7
30-WF6016/T9
Direct and residual Shear Geo-Analysis template conforming to ASTM D3080
Documents
Instruction manual