Asphalt/bituminous mixture
Products

Asphalt Prism Shearbox Compactor PReSBOX®
Asphalt Prism Shearbox Compactor PReSBOX®
Unique solution for specimen preparation
ASTM D7981
Main features
The PReSBOX produces a prismatic speciment with nominal dimensions of 4510 mm (lenght) x 150 mm (width) x 120 to 185 mm (height)
Asphalt prisms prepared in the PReSBOX compactor can be sawn or cored to produce 4-6 prismatic beams or 1-4 cylindrical specimens
The PReSBOX can be operated by a single person
Produces specimens with excellent air void distribtion and particle orientation
Designed for an easy unlocking of the compaction mould, facilitating an effortless speciment extraction at safe height, handling and user safety
General description
General description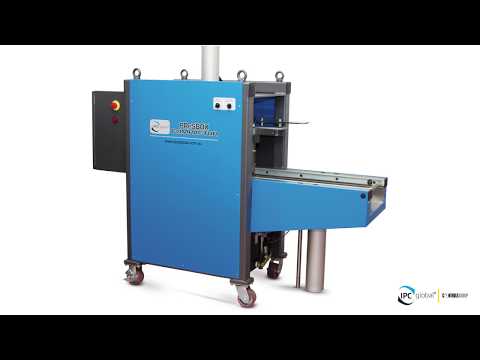 The PReSBOX
®
provides the latest in asphalt speciment preparation and mix evaluation technology. PReSBOX
®
produces high quality asphalt prisms from which beams and cylinders with excellent air voids distribution, homogeneity and particle orientation can be cut.
The unique shearing action of the PReSBOX
®
closely replicates the conditions under which asphalt is placed in the field and produces specimens with excellent homogeneity and volumetic properties, giving an exceptional measure of workability.
The PReSBOX
®
also provides an accurate measure of the workability (relative effort required for compaction) of Hot Mix Asphalt (HMA) needed in the field to achieve a target void content.
The PReSBOX
®
Shearbox Compactor features a PC interface for user entry of compaction parameters, and provides a real-time graphic display of data, e.g. specimen height, vertical stress and air voids per cycle.
Controlling PReSBOX
®
is IPC Global's Multi Axis Controls System (IMACS). IMACS delivers leading edge performance, unparalleled control and the ultimate in flexible data acquisition.
More +
Technical specifications
Shearing motion: Electromechanically driven at 4°
Vertical stress: Pneumatic user defined up to 2 MPa
Specimen size: 450 x 150 x 120 - 185 mm (l x w x h)
Integrated specimen extruder
Specimen Loading: Easy loading with included accessory kit (includes: distribution chute, levelling tool & comb)
Compaction Frequency: 3.7 cycle/min +/- 16 s/cycle
Mould hardness: 50 Rockwell C (minimum)
Platen hardness: 50 Rockwell C (minimum)
Mould surface: finish smoother than 1.6 µm
Loading platen size: 448 x 149 mm (l x w)
Loading platen finish: smoother than 1.6 µm
Numbers of cycles: user definable (unlimited)
Air supply: clean dry air supply at minimum 600 kPa
Size (h x w x d): 1540 x 1765 x 1050 mm
Weight: 1100 kg
Ordering info
77-PV46A02
PReSBOX, Asphalt Prism Shearbox Compactor.
220-240 V, 50-60 Hz, 1ph.
Accessories
79-PV71102
Pneumatic filtration kit - wall mount, 12 bar.

77-PV46202
Heater to pre-heat the box walls. 220 V, 50-60 Hz, 1 ph

77-PV46204
Heater to pre-heat the box walls. 110 V, 60 Hz,1 ph
Additional Information
The PReSBOX features an ergonomic interaction of users with the testing machine in three simple steps
PReSBOX has been designed to replicate the field properties of asphalt, in a simple and efficient manner.
Charging the compaction mould with loose asphalt. Using the distribution chute provided, pour HMA into the compaction mould. slots in the distribution chute ensure the material is tipped uniformly into the PReSBOX. Discharge gates at the bottom allow the material to fall freel into the mould avoiding segregation. (see image 1)
Commencing the test. The mould is then pushed into the PReSBOX and automatically locked into place. Using UTS Software the user can set the required compaction parameters. The PC controlled compaction process can then be recommended. (see image 2)
Removing the sample. The compaction mould is then ulocked, pulled into the ejection position and the sample is elevated to a safe height to allow for removal and cooling. (see image 3)
Documents